Good commercial-use media are kind of like unicorns: saying they're hard to come by in the wild is a bit of an understatement. But if you're looking for public domain, Creative Commons 0 design resources for use in your packaging, print materials, or marketing projects, you can rest easy: we've got you covered.
Below you'll find a list of our favorite free resources, compiled to save you time, headaches, pulled hair, etc. Each of these resources contains photos, videos, vectors, icons, and more that are completely copyright-free.
(From one marketer-designer to another, you're welcome and godspeed.)
Understand These Terms Before Using Any Free Images
When we talk about free image resources, there are some terms you should know so that you can avoid falling into any internet traps. Stay vigilant out there, folks.
Royalty-free images
To make this phrase confusing, royalty-free images aren't always free. They're usually a one-time purchase that allows you to use the image as many times as you'd like. This is in opposition to another type of image license, the royalty license, that means you'll have to pay royalty on an image every time you use it. Most premium stock photo sites use a royalty-free model.
Creatives Commons licenses
That Creative Commons thing I mentioned up there? If you're not familiar with it, CC is a nonprofit organization that creates free legal tools that help artists navigate copyright and attribution for their works on the internet. The licenses range from allowing any type of use with no attribution, to allowing use of their works only in certain contexts. Creative Commons 0 licenses do not require attribution, and allow the works they protect to be used commercially. Be careful to attribute where you need to (and of course, it is always kind and appreciated to give an artist credit.)
Public domain
Works in the public domain usually have copyrights that have expired (you may remember this recently happening to Winnie the Pooh 🍯), or ones that have been forfeited (which is way rarer.) Public domain doesn't necessarily include any images, memes, or videos you may encounter on the internet.
8 Great Resources To Find Free Images for your Marketing or Design Project
Pexels is an incredible user-submitted collection of no-credit, royalty-free photos and videos. Beyond standard stock photos, which they've got a treasure trove of, they also have textural photos that can be used as product backgrounds, the bases for social media posts, and much more. Likewise, they've got an extremely wide selection of videos for you to peruse, from abstract b-roll to family photoshoots.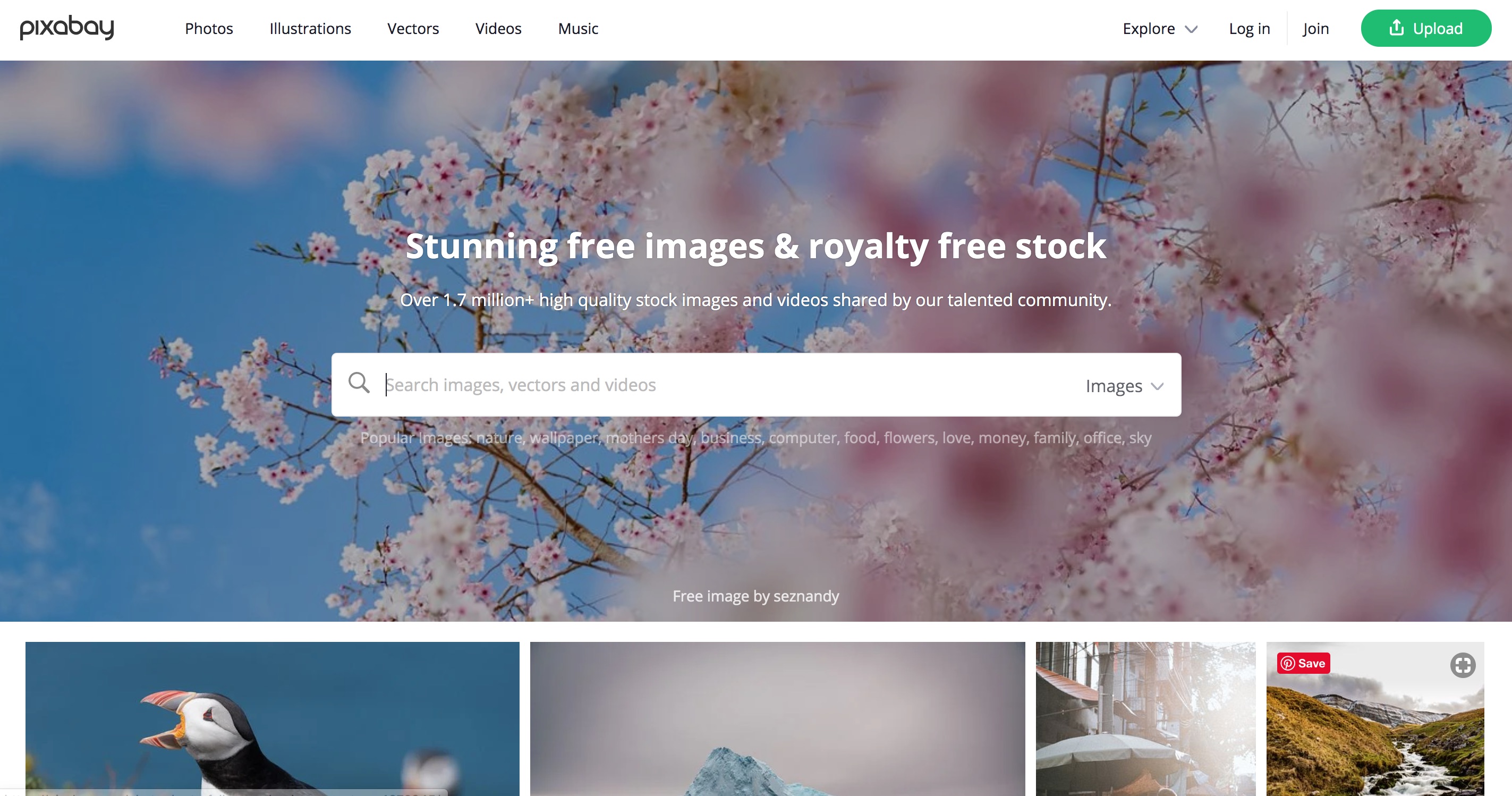 Pixabay sometimes takes some scrolling to get to the good stuff, but there's an incredible amount of beautifully created vectors and illustrations on the site. Their license specifies that the images, videos, and even music on their site is free to use for personal and commercial projects with no attribution.
You may have heard of Unsplash if you've ever built a site through Squarespace – the latter uses the former to provide royalty-free image options to its users. Unsplash is available to all, though, and with a license much like Pixabay's, they provide thousands of commercial-use photos and videos at no cost. My favorite feature is their filters, which span the width of their header and provide an easy way to browse their site (and provide endless inspiration when you have no idea what you want to do for a project.)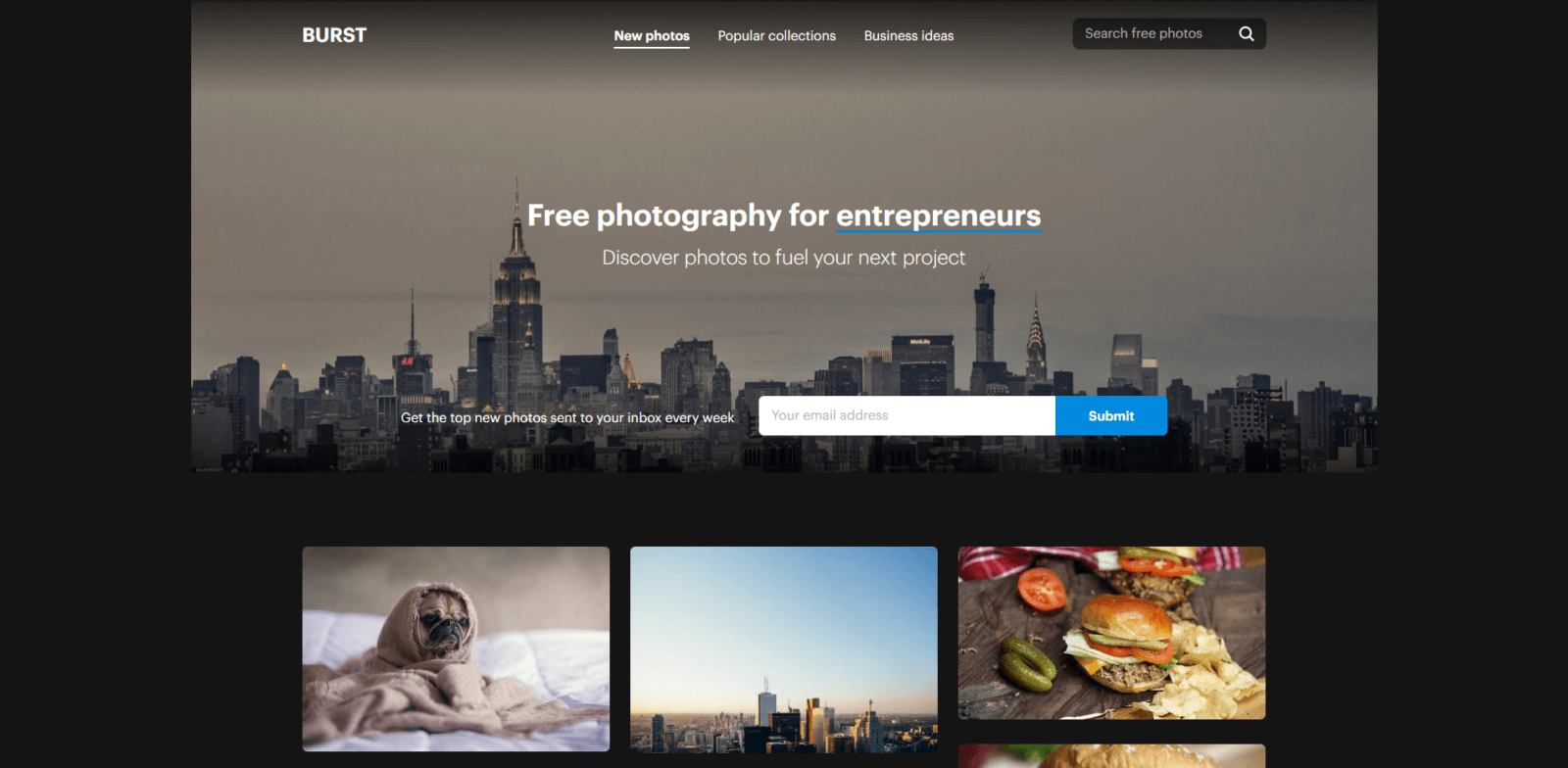 Shopify has created their own royalty-free and actually-free stock photo site. They focus on providing images that are diversity-focused, high quality, and very modern. They break their site into helpful collections (at the time of writing they had excellent ones featuring sign language, jewelry, yoga, food, and more) for your easy browsing experience.
Stocksnap uses the Creative Commons CC0 license. All its photos are free to use with no attribution for commercial and non-commercial photos.
Canva's an incredible resource if you're not super versed in Photoshop, because alongside free stock photos, it provides an extremely fast image editor that will allow you to create social media ads, blog posts, and more in no time flat. An honorable mention here for Crello, which is a similar service.
Probably the most out-there service in this list, Death to Stock isn't a gallery of stock photos. Instead, they provide a selection of twenty highly-stylized free photos every month when you sign up for their very neat newsletter. If your brand is very modern, it's worth a signup.
While most of iStock is premium images and videos, signing up for a free account means you'll get a new batch of free stock files (images and videos!) every week. It's a great option to find photos that aren't really in use anywhere else yet.
The wrap-up
No-cost, royalty-free, commercial-use, no-attribution stock photos can be really difficult to find, but it's our hope that these resources provide you with more than enough to bring your packaging and marketing ideas to life.
And hey, when you're ready for the next step, we hope you'll consider us for your product and packaging needs. We're a full-service packaging company, and we provide branding solutions to our clients quickly and professionally. And not to brag, but our one-on-one specialists are unmatched in helping clients improve their branding with incredible custom-printed packaging from boxes and bags to just about anything else you could need to ship out your product. Check out what we've done for previous and current clients in our gallery.
Wishing you all the best in your marketing campaign!
---